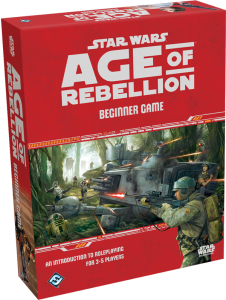 Dieser Monat lässt meinen Blog unter dem Zeichen von Fantasy Flight Games stehen, denn diese haben just einen weiteren Wurf in ihrer Star Wars Rollenspiel Welt angekündigt. Nach dem erfolgreichen Edge of the Empire, bekommt nun die Rebellenallianz ihre verdiente Aufmerksamkeit und so können wir uns alle auf "Star Wars: Age of Rebellion" freuen.
Wie schon beim Vorgänger, wird es wieder eine sog. Beginners Box geben, die neben ein vorgefertigten Charakteren auch wieder ein Einstiegsabenteuer beinhalten, welches die Akteure spielerisch in die Regelwelt von Age of Rebellion einführt. Natürlich ist auch wieder ein Set von "custom dice" dabei, die auch schon in Edge of the Empire dabei waren.
Die Fantasy Flight Games Website spricht von einer Veröffentlichung im zweiten Quartal 2014 (wahrscheinlich erst mal nur in englischer Sprache).